i shall try to upload all my pix but i dont have much time right now so you all just sit tight!!  sorry i didnt bother resizing them.  its cuz i dont have much time right now.... sumimasen!
  (ookami, ichi, and britt)
(i think you know who this is)
  mya!! its teeda!
i just got my hug from kenji03 and teeda right here.  u can see nao right there on the side =D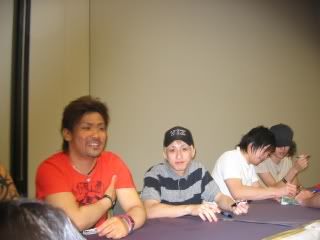 life is so sweet.  kenji03 was staring at me =D
[IMG]
[
my sex god kenji03
ookami and our lovely nao
ichi and nao (i was a bit tired running around in the box all day)
http://www.youtube.com/watch?v=AFeJw11o_00
  oh this is when we won the runway cosplay. i was ecstatic!!
for flick!
[IMG]
my L cosplay. before the con
ok i shall upload more pix later.  i had the time of my life.  best birthday present ever!!!!
Lets go to hell, with our hands clasped, together. As we enter its fiery gates and hear the cries and shouts of the damned, we'll walk in with smiles in our faces and scorn God, for not even death can withstand our love.